Cent Forex Account (Brokers with Cent Trading Account)
The undeniable popularity of Forex trading has led to significant growth in the number of new traders. However, not all new traders can make it in the business due to a lack of sufficient capital, knowledge, and experience.

But, do not worry. If you have just started your trading journey in the Forex world, a Cent account may be the best solution for you. Find out the reasons why and how to utilize the Cent account according to your trading objectives and styles.
As the name suggests, a Cent account is measured in cents. Since the unit of measurement is much smaller, it is a great way for beginners to start Forex trading.

The Cent account was first introduced in 2006 aiming to help traders with small capital in their trading journey. This account type is similar to other accounts, such as the Standard account, so you can consider it a Standard account measured in cents. The currency is called USC or USD Cent, and 1 USD lot = 100 Cent lots.
For example, if trader A makes a $10 deposit into his Cent account, he would see a 1,000 USC balance in the terminal.

The same also applies to profits and losses. For example, trader B opens a buy EUR/USD order at the price of 1.0505 with a 0.1 lot volume in his Cent account. He predicts that the price would rise, but it falls and he starts to lose money, so he closes the trade. At the time of closing, the price of EUR/USD was 1.0490. It means that the price dropped by 15 pips (1.0505 – 1.0490 = 0.0015). In other words, trader B loses 15 cents. However, if the same transaction was conducted on a Standard account, he would have lost 15 dollars, 100 times greater. Therefore, a Cent account is less risky for new traders with smaller capital.
Advantages of Cent Accounts
Before registering a Cent account, new traders should learn more about it to take full advantage. The Cent account comes with the following benefits:

👍 Lower Risk of Losing Money

As you can see in the above example, you will lose less money on a Cent account compared to a Standard account. That is why the Cent account is perfect for beginners who have just started to learn how to trade so that they can minimize their losses in the beginning. It goes without saying that lower risk means lower profit. So, when your transaction goes well, you will earn less money compared to the Standard account.

👍 Minimum Deposit Amount

Aside from the lower risk, the Cent account usually requires a lower minimum deposit. Some brokers even offer a minimum deposit as low as 1 USD for the Cent account. Therefore, this account is suitable for traders who do not have much capital or intend to trade in smaller lot sizes.

However, you are advised to deposit more than the minimum deposit since the market fluctuates rapidly and unpredictably.

👍 Minimum Lot Size

The Cent account enables traders to use the smallest lot sizes for their intended trades.

For example, the minimum trade size on the MT4 platform is 0.01 Standard lot, or 1,000 units of currency (or 1,000 USD). Using the cent account, you can minimize the volume to just 10 units of currency (or 10 USD/1,000 Cents). In this way, almost all traders can afford the low trade size even if their capital is limited.

👍 Transition from Demo to Live Account

Beginners usually start their trading by opening a Demo account. They learn how Forex works by using virtual money on the Demo account. Then, they will open a live account.

The Cent account allows traders to practice trading with real money and lower risks. Using this account, they can experience real trading and all it entails (excitement, stress, etc.). Thus, the Cent account can be a smooth transition from demo to live trading.

👍 Test Strategies and Trading Tools/Conditions

This account type is not only beneficial for beginners, experienced traders can benefit from it too. Since the Cent account has lower risks and requires lower capital, it is usually used by traders who want to develop different strategies using real money.

In addition, traders can evaluate the trading tools and conditions offered by the broker to see if the broker's services are suitable for their trading style. If their experience with the Cent account is positive, then they can continue trading with the broker.
What are the differences between Cent and Standard accounts?
Forex brokers may offer various trading accounts, but the most common one is a Standard account.

So the question is, why should you choose a Cent account over a Standard account? The table below summarizes the differences between the two accounts so you can decide which account is more suitable for you.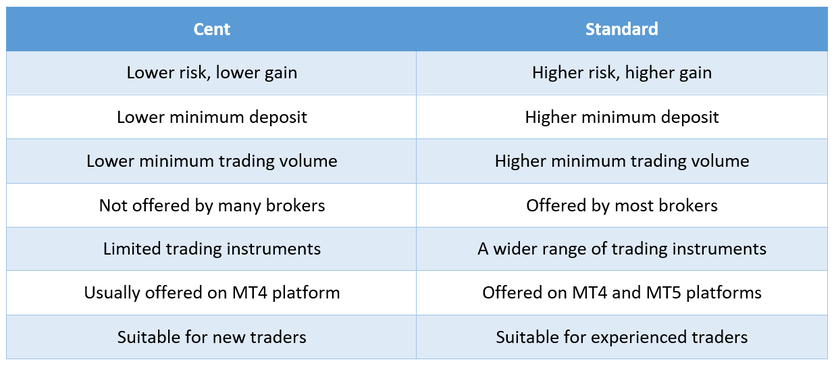 If you are a beginner with limited experience and capital, a Cent account may be a good choice for you. Even though the profit is lower, it is a good way for you to develop your trading skills and strategies.

If you are an experienced trader with sufficient experience, knowledge, and capital, choosing a Standard account may be better. With decent risk management, you can minimize potential loss and gain more profit.
Most Cent account users are new to the Forex world and it may be quite challenging for them to find a reputable Forex broker that offers Cent accounts.

Not many brokers offer this type of account since it is less profitable for them compared to other account types. For that reason, we have made a list of reliable forex brokers that offer cent accounts: