ECN Forex Brokers - ECN Accounts
The ECN account is quite popular among experienced traders. But first, let's find out what ECN is, how it works, what its advantages are, and how different it is compared to a Standard account. We also provide you with a list of trusted ECN brokers with the best trading conditions.

An ECN broker is a financial intermediary that uses ECN, or electronic communications networks, to provide the clients with direct access to the market. As the name suggests, the process is done electronically through a digital system.

There are two types of ECN brokers, namely the non-dealing desk (NDD) / STP brokers (straight-through processing) and ECN brokers.

STP brokers are the "middlemen" between you, the trader, and the liquidity providers, such as banks, investment houses, hedge funds, and other financial institutions. They pass your order to a liquidity pool consisting of various liquidity providers that offer different prices. Then, your order will be executed by a liquidity provider that offers the best price. That is why your broker charges a mark-up in the form of a spread for the services rendered. The prices offered by your broker may not be the same as the prices offered by the liquidity provider.

ECN brokers act as a "bridge." They automatically and directly match your order to liquidity providers. The ECN system allows traders to bypass brokers or other third parties, so there is no mark-up. However, traders still need to pay ECN brokers a fixed commission per transaction. Moreover, since in an ECN environment, the process is faster and more direct, the prices are provided in real-time. In other words, the prices that you see are the live prices offered by the liquidity providers allowing you to formulate your strategies and execute them accordingly. In this way, your trading will be more convenient and cost-effective.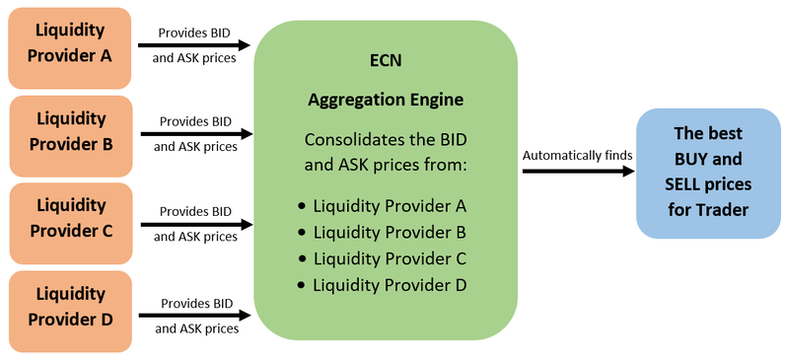 You may ask, why do we need an ECN broker to help us access the ECN system? Because the majority of liquidity providers require a minimum of trading transactions in large volumes. Retail traders usually find it difficult to meet the requirements because they trade in smaller lot sizes, so we still need the help of ECN brokers to connect us to other market participants.
Advantages of ECN Accounts
There are a number of reasons why an ECN account is popular among traders. By registering an ECN account, you can enjoy the following benefits:

Lower spreads

Spread is the difference between the bid (buy) and ask (sell) prices. When buying and selling financial assets, you may get different spreads depending on your broker or trading account. Charging spreads is your broker's way of earning money for their services.

By using an ECN account, you can get the best buy and sell prices from all market participants since price quotations are directly received from the liquidity providers. ECN brokers can offer tighter spreads to their clients; therefore, traders can get more favorable prices than the normal prices offered by the usual brokers.

Outside usual trading hours

Not all traders have time to trade during normal market times. ECN is a good alternative for investors who cannot trade actively during the usual trading hours and require more flexibility in trading. ECN traders can continuously trade outside the usual trading hours regardless of opening or closing times, and also be more flexible in formulating their strategies.

Transparent and live pricing

The pricings provided by ECN brokers are live and the same since they have the access to the same feeds. Therefore, it lowers the chances of price manipulation. In addition, most ECN brokers usually offer no re-quotes or slippage. And since ECN brokers only match trades between other market participants, they cannot trade against the clients.

Faster trading activities

Since ECN gives you direct access to major liquidity providers, all trading activities are done in real-time. There are no system lags, glitches, or delays. This is essential for traders because every fraction of a pip or millisecond counts in Forex trading.

Furthermore, traders do not need to wait for brokers to find a counterparty to their trades since the ECN system will match buyers and sellers automatically. Thus, they can easily enter and exit positions in the financial markets.

Anonymity

Some traders may prefer a level of anonymity for large transactions. The good news is, in an ECN environment, no one will know which liquidity provider matches your order and even the liquidity provider will not know where the order is coming from. Thus, ECN accounts are more suitable for experienced and professional traders who often have big trading volumes.
What are the differences between ECN and Standard accounts?
You now know about the ECN system and its advantages, but which account should you choose, ECN or Standard?

To make the right decision, you need to know the main differences between the two accounts, so you can choose based on your trading objectives, level of experience, and risk appetite.

The differences between the ECN and Standard accounts are summarized as follows: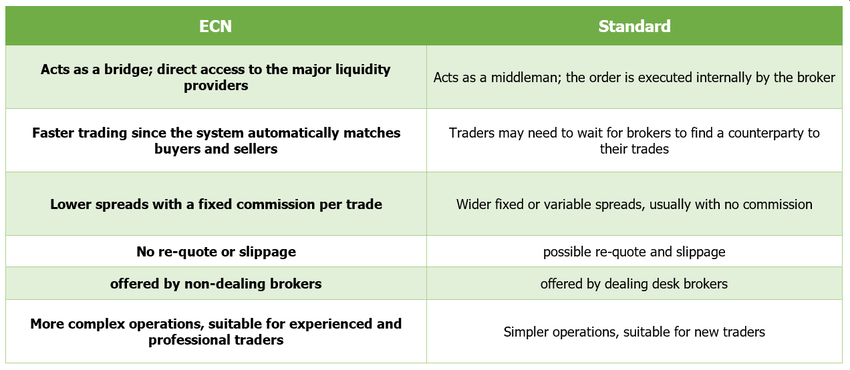 If you have just started your journey in the Forex world, it is better to choose a Standard account since it is safer. On the other hand, as a professional trader, you may prefer an ECN account since you have more experience in dealing with the highly complex and risky FX Market.
Best ECN Forex Brokers in Kenya
Not all forex brokers in Kenya provide ECN services, and only a handful of those ECN brokers can be trusted. Therefore, you need to make sure that your broker offers an ECN account with reliable services and decent trading conditions.

Some of the best and most established ECN Forex brokers are as follows: