Demo Trading - Forex Demo Account
As the largest financial market in the world, the Forex market is used by millions of traders and attracts, even more, every day. Given the huge daily trading volume of this market, the chance of earning a profit in such a competitive trading environment is now bigger than ever! Nevertheless, only a few successful traders manage to thrive in the Forex market. It is simply because many traders, especially beginners, do not have adequate skills, experience, and knowledge to trade responsibly. Bear in mind, trading is extremely risky and can wipe out all of your money.

So, how should you start your trading journey? By taking a page from professional traders' books, simply put, by using a Demo account.
What is a Forex Demo account?
As the name suggests, a Demo account will allow you to gain trading experience in a simulated environment. A Demo account is a dummy trading account that is similar to the real account you will use to trade in the Forex market. Using this account type, you can still experience all the thrill, rollercoaster of emotions, and losses. But, because it is in virtual currency, there is no risk – and of course, you will not earn real money when you win.

A Demo account is free, can be accessed online, and is automatically funded. It is usually offered by almost all Forex brokers with the same trading conditions as the real account. So, you should open a Demo account and try practicing with it before depositing and using real money in your trading.
How to open a Forex Demo account?
Opening a Demo account is super easy, it can be done in just 5 minutes or less. Although the registration process for each Forex broker may differ, the steps are quite similar.


🔸
Choose your broker and go to their official website

🔸
Choose and open a Demo account

🔸
Complete all the information (full name, date of birth, email address, and so on)

🔸
Confirm your identity, if needed

🔸
Download and log in to your chosen trading platform

🔸
Start trading risk-free and with no deposit!

The whole point of Demo trading is to get familiar with the Forex market at your own pace. So, use this account to get comfortable with trading for as long as you need.
Benefits of a Demo account
Maybe you are wondering why you should open and practice using a Demo account if the capital, losses, and even profits are not real. There are several important reasons why a Demo account is an essential first step in your journey to becoming a successful trader.

1. Explore and understand your trading environment
For many new traders, the Forex trading environment may feel unfamiliar at first. By using a Demo account, you will experience your broker's services firsthand without having to spend money. This way, you can learn how trading works and how to use the Forex platforms effectively.

There are also many trading aspects that you need to get familiar with, such as the broker's trading conditions and policies, and how they are applied in daily trading operations. Even though similar, each trading platform is different; therefore, you need hands-on experience with the broker's offered platform to see whether it is the right choice for your trades. This is especially important for long-term investors.

2. Equip yourself with the basics
To be successful in the Forex world, experience and knowledge are key factors in building your foundation and strengthening your mentality. Trading skills are important because without real skills you are just another gambler who relies on dumb luck. You can avoid all of that by having enough practice in a Demo account before attempting live trading.

The reason why we bring up mentality in Forex trading is that you will often encounter an emotional outburst. Maybe you have to make a difficult and quick decision under pressure, or maybe you have to stop trading because it is very risky even though you have won several trades consecutively and are excited. Whatever it is, you need to be mentally strong to be able to survive in the Forex world. And even though a Demo account may not trigger the same emotional response as the real account, it is still an indispensable method that can help to build your mentality through lots of practice.

3. Practice reading the market and strategies
We all know that the Forex market is extremely unpredictable. Prices move in just fractions of a second, sometimes with a mere tweet or a piece of juicy news. This is especially risky for new traders that are not yet familiar with these situations.

New traders should practice reading the market using a Demo account before getting a crack at the real thing. You need to get used to the market's movements, know the best times to trade, and master various indicators and tools, such as stop-losses, limit orders, spreads, and lots. In this way, you are at least somewhat prepared for what's to come in the Forex market.

Even experienced traders can use a Demo account to test and develop their strategies without any risks. When you are certain that the strategies work as expected, then you can use them in a live account to earn profits.
Demo Account vs. Live account
You may start with a demo account, but you will eventually have to switch to a live account. Knowing when to stop using a demo account is crucial because getting used to this account type could damage your overall trading mentality. Remember, your goal is to earn profits in a live account, so Demo Trading should only be considered a period of transition to Live Trading.

To do that, first, you should know the similarities and differences between a demo and a live account: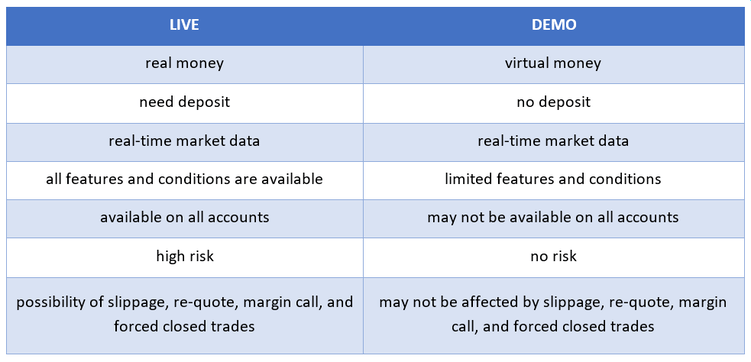 Now that you know the importance of a Demo account, it is time to select the most suitable Forex broker for your trades. You need to choose your broker carefully in terms of service quality, tools, customer support, and so on. Moreover, it's equally important to make sure that the offered demo account comes with the same conditions as the real account.

If you do not have time to choose a suitable broker from too many available offers, no worries. We have prepared a list of the most trusted and regulated Forex brokers that offer Demo accounts: